Our 31st sale is not live at http://agoraauctions.com.
The highlight of this sale is lot 187, a unique Roman medallion of the emperor Volusian, which has a very old pedigree!  The coin, formerly residing in the Wiczay collection, was first published by Eckhel in 1775, and subsequently cited in Cohen. Purchased after Wiczay's death c. 1830 by the Parisian coin dealer Rollin, it had been missing until its recent chance discovery at a coin show in the United States.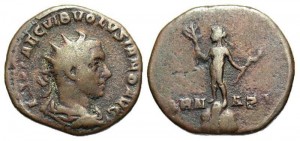 Ex Wiczay collection, published by Eckhel in 1775 with an accurate drawing closely matching this coin. In an online discussion concerning this coin, Curtis Clay wrote: "Judging from Eckhel's drawing, the Wiczay specimen, like [Agora's], had a little extra metal outside the border of dots at the left on the obverse, and had two small indentations on its upper edge on the reverse, at a little before 12 o'clock and a little after 1 o'clock respectively.
I think these correspondences can hardly be coincidental, so do not doubt that [Agora's] coin and Wiczay's represent one and the same original! One of them could be cast from the other, or both could be casts from a lost original, but given the facts (a) that other identical casts have not to my knowledge turned up, and (b) that [Agora's] coin looked to be to be an authentic original when I inspected it soon after he bought it, the most likely hypothesis is surely that [Agora's] piece is the identical coin that was earlier in the Wiczay collection. That is certainly possible, for Wiczay's collection was purchased by the Parisian coin dealer Rollin c. 1830 after Wiczay's death, allowing it to be recycled to the coin market and other private collections. Vienna and Paris both purchased quite a few Wiczay coins, but Kubitschek informed Dressel that this Volusian dupondius was not among the Wiczay coins acquired by the Vienna collection." [cited with permission of Curtis Clay.]
It is posited that the reverse legend contains the abbreviations of two adjacent Umbrian towns, Arna and Asisium, where a large statue of Apollo Arnasius had been erected. Volusian's father, the emperor Trebonianus Gallus, was born in Perusia, which he later renamed Arna after his wife. During the reign of Gallus a pestilence spread across much of Italy and claimed the life of Decius' son, Hostilian. This reverse type certainly represents the statue of Apollo which was considered the "healing and succouring deity". There are other medallions of Gallus with the legend "APOLLINI SALVTARI", leaving little doubt that this type was representative of the series. [See: F. W. Madden, Numismatic Chronicle 1868, pp. 8-10 and Stevenson, A Dictionary of Roman Coins (definition of ARN ASI)]